Vila Sol Spa and Golf Resort - Vilamoura, information page.
The Vila Sol Vilamoura Spa & Golf Resort occupies 150 hectares in a truly revitalising natural setting.  The fabulous 27-hole golf area, designed by the architect Donald Steel, occupies a valley sculptured by nature and it is divided into three courses of different levels of difficulty: Prime/Challenge/Prestige.

Golfers are able to enjoy, in a unique natural setting, excellent conditions from the first to the last shot. A vast team of professionals is at your disposal from the 1st tee to the Clubhouse, to ensure that each moment is an unforgettable experience.
The Clubhouse is the starting and finishing point for each one of the 9-hole courses; the 1st course extends to the east, the second to the west and the 3 extends to the south. You can practise on the 300-metre driving range next to the Clubhouse.


Add your review and comments on the Vila Sol Spa and Golf Resort below at the bottom.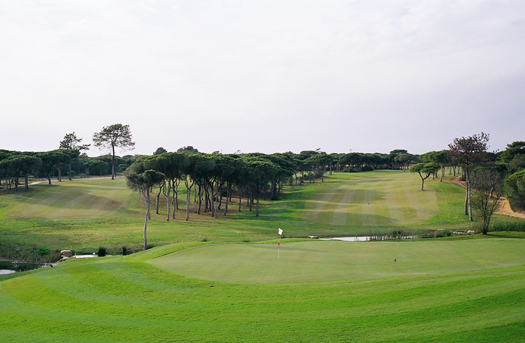 The The Vila Sol Vilamoura Spa & Golf Resort staged the Portugal Open (in 1992 and 1993), and its value was recognised in 1996 with the award by Green Globe of the Green Flag (certification of conformity with environmental standards) and the Best Golf Development award in  2001, which was presented by Sir Eric Pickles, a Member of the British Parliament.
Enjoy your Golf in Vilamoura Central Algarve