Quinta do Vale Golf Resort - Castro Marim, information page.
Quinta do Vale Golf Resort 18 hole golf course was specially designed by the world famous player Severiano Ballesteros, considered to be the European Player of the Century, who now owns Trajectory, S.L., the company responsible for the project.

The Quinta do Vale golf course has been designed to attract golfers of every level and will be a strong candidate for hosting important international championships, covering an area of 75 hectares, the course is fully integrated into the surrounding natural landscape, taking full advantage of the picturesque valley.

 
Quinta do Vale Golf Resort features an 18-hole Championship layout including 6 Par-5´s, 6 Par-4´s and 6 Par-3´s. Superbly integrated into the landscape and with stunning views over the Guadiana River, the course sits in a natural valley overlooked by the Clubhouse.
Add your review and comments on the Quinta do Vale Golf Resort below at the bottom.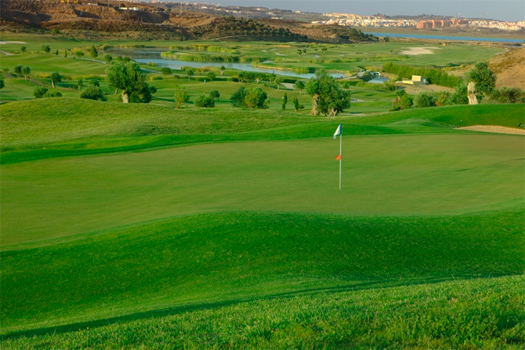 At Quinta do Vale, players will notice Seve´s creativity as well as his promise: To please everyone no matter what their handicap is. The course is enhanced by numerous dogleg holes, wide fairways and obstacles all set in breath-taking surroundings…The challenge awaits you at Quinta do Vale Golf Resort.


Western Algarve Golf Courses | Central Algarve Golf Courses | Eastern Algarve Golf Courses
Enjoy your Golf in the Eastern Algarve