Quinta de Cima Golf Course - Vila Nova de Cacela, information page.
Quinta de Cima Golf Course consists of eighteen holes skilfully scattered within an area of 620.000 m2.

The Cima Course is very competitive with dog-legs to the right and to the left and greens well protected by sand hazards and lakes, particularly holes 16, 17 and 18.
A stream with dams and permanent flowing water crosses holes 4, 5, 6 and 13 and the Golf Course is bordered to the north by the National Road 125 and spreads to the south, where its limits are a municipal road that leads to the Ria Course.

The greens have been seeded with Bent Crenshaw. Tees and fairways are covered with Zoysia.
Quinta de Cima driving Ranges have generous dimensions and are built facing in the south/north direction. When hitting from the northern tees, you can appreciate a magnificent view of the mountains as well as of the Ocean along the Algarve. From any point of the course, both the sea and the Algarvean mountains are a delight to anyone's eyes.

Add your review and comments on the Quinta de Cima Golf Course below at the bottom.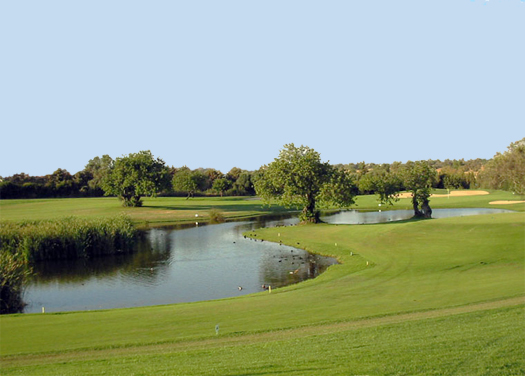 On the other Driving Range, designed to practice with irons, there is the Robinson Golf Academy. It comprises 3 greens and 6 tees to the teaching of the different types of game with irons, namely how to get off a bunker to a green 120 m distant.
Since there will be no real estate construction on the site, the Cima Course is indeed a paradise to those golfers who love to be always in contact with nature.


Western Algarve Golf Courses | Central Algarve Golf Courses | Eastern Algarve Golf Courses
Enjoy your Golf in the Eastern Algarve