Quinta da Ria Golf Course - Vila Nova de Cacela, information page.
This spectacular 18 hole golf course is in the Ria Formosa Natural Park and spreads along an almost flat surface of 660.000 m2 down to the Ria Formosa itself, hanging over it and with a stunning view of the sea.

The Golf Course is a PAR 72, comprising two loops of 9 holes and each loop with 2 PAR 5, five PAR 4 and two PAR 3 holes. The total length is about 6.016 metres with five lakes strategically built along the course, specifically near the greens 5, 10 and 14.
Hole 16, PAR 5, is played between the two biggest lakes and the green of the PAR 3 nr. 17 is limited by one of these lakes where an island with varied bird-fauna may be found. Besides the beauty, the lakes render to the course, they are also used as water reservoirs for the irrigation and are nourished by a stream running through the resort.
On Quinta da Ria the greens, smoothly undulating, are well protected by bunkers. Greens, tees and fairways are covered with Bent Crenshaw and the roughs with Poa Pretensis with Fescuas. With no surrounding real estate and more than 300 trees, such as olive and carob trees to maintain the ancient border of the course and the typical features of the region landscape. It also looks like as if the course is of the same age as its surrounding centenary trees.


Add your review and comments on the Quinta da Ria Golf Course below at the bottom.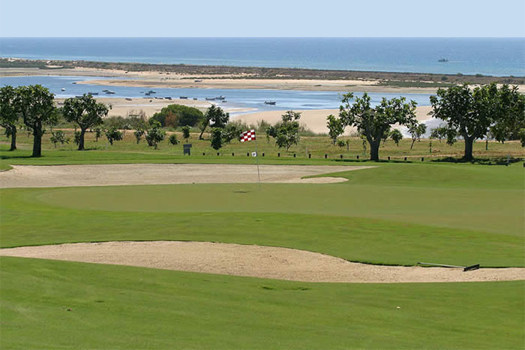 From any place on the Golf courses you can see both the mountains and the sea around in the region.
The surrounding orange trees and vineyards give their contribution to make the course country landscape even more beautiful.
Western Algarve Golf Courses | Central Algarve Golf Courses | Eastern Algarve Golf Courses
Enjoy your Golf in the Eastern Algarve