Pestana Gramacho Golf Course - Lagoa, information page.
Pestana Gramacho was designed by Nick Price, a former world Nr.1 player, has teamed up with the well-known golf course architect, Ronald Fream, to create a uniquely designed 18 hole course with 27 varied greens that enable the golfer to play the same course several times with different greens and new challenges.

The design technique has positioned the greens and protective bunkers so that an 18 hole round is a genuine challenge. The positioning of the tee markers helps to increase this variety still further. As in the case of the Pinta Course, this course is maintained at tournament standard all the year round.

In the Nick Price style, the wonderful characteristics already existing on the site, from the boulder outcrops and dry stone walling to the fig, carob and olive trees, have been complemented by artfully positioned lakes and bunkers. These hazards, combined with the design of the greens and fairways, result in a challenging but attractive course at Pestana Gramacho.
Add your review and comments on the Pestana Gramacho Golf Course below at the bottom.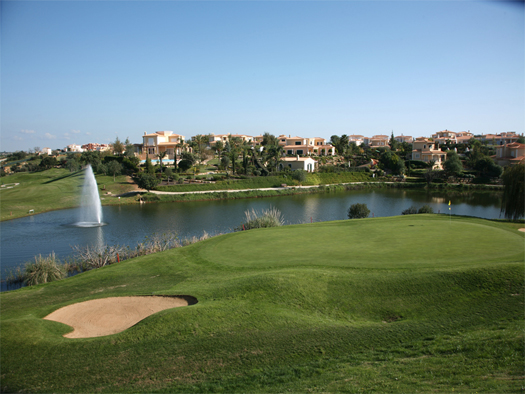 From the first stroke off the tee to the final green, the player must not just play the ball well but also adopt the best strategy to achieve an optimum result. At the end of the round, experienced golfers will be able to confirm that they have played a good course, with a challenging 72 par over a more-than-sufficient length of 6,107 meters.
Western Algarve Golf Courses | Central Algarve Golf Courses | Eastern Algarve Golf Courses
Enjoy your Golf in the Western Algarve