CS Álamos Golf - Portimão, information page.
CS Álamos located on the north part of CS Morgado do Reguengo Resort, CS Álamos Golf course is a different course. We say different because this 18-holes golf course has great views over the water reservoir and the vineyard, showing the peaceful inner Algarve. You will also see differences on the course layout.

These irregular fairways are tighter than CS Morgado Golf, and each hole is well delimited by native trees. Greens are smaller comparing with the brother course, but more irregular. There are bunkers on the Russel Talley designed Par 71, but but not as many as Morgado in fact half the number.

Together, Morgado and Álamos represent a complete test to your golf skills and the guarantee of some unique moments.
Located within the Morgado do Reguengo Resort, Álamos Golf is the second 18-hole course of this countryside retreat with the Monchique Mountains and the estate's vineyard as backdrop. Two large water reservoirs and an orange grove complete the scenic portrait of this golf course.
Add your review and comments on the CS Álamos Golf below at the bottom.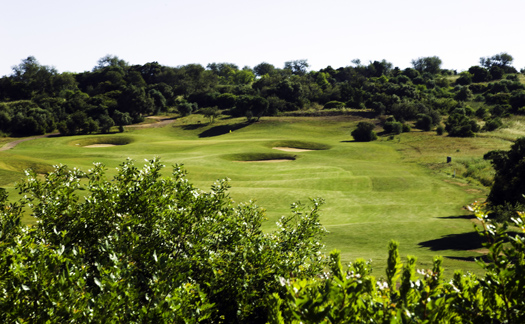 To complement it, the resort features an offer of luxurious accommodation with a hotel and apartment units, supported by a range of leisure facilities within and outside the complex. The Algarve International F1 Racetrack is just a mere 5 minute drive away.
Western Algarve Golf Courses | Central Algarve Golf Courses | Eastern Algarve Golf Courses
Enjoy your Golf in the Western Algarve