Castro Marim Golfe and Country Club - Castro Marim, information page.
The Atlantic course is the first of two 18-hole golf courses inaugurated at Castro Marim Golfe and Country club.
On the first 18 holes you will have breathtaking mountain, river and sea views. These views are part of the spectacular scenery to be enjoyed by those wishing to take walks merely throughout the surrounding countryside.

The course has been designed to give pleasure to any level of golfer and the challenging aspects of the course, whilst providing interest to the expert, are also a test to the ability of the average handicap golfer and yet remain pleasurable to both.
Another interesting feature of this course at Castro Marim Golfe and Country club is the irrigation system/ The entire course is irrigated by means of an underground so called 'leaky pipe' system. This enables golfers to play at times when courses with conventional aerial sprinklers would be unavailable.

Add your review and comments on the Castro Marim Golfe and Country Club below at the bottom.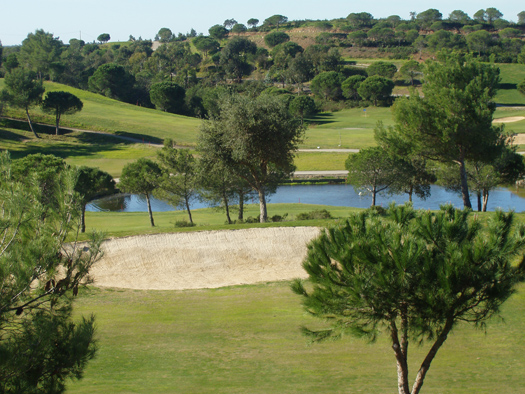 Imagine being on the course on a balmy August evening at 9pm in time to witness an Algarvian sunset, before heading off for dinner at our unique Golf clubhouse overlooking the Atlantic Ocean.

Western Algarve Golf Courses | Central Algarve Golf Courses | Eastern Algarve Golf Courses
Enjoy your Golf in the Eastern Algarve