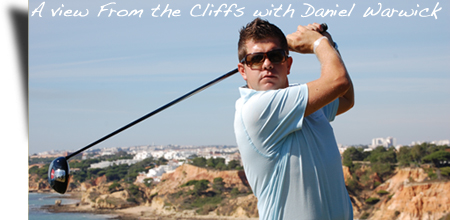 Welcome to my new column from the golf capital of Europe "The Algarve", currently 24 degrees and blazing sunshine. Host to the European tours Algarve Masters during October, our region stretches 240km from the furthest west point in Europe to the Spanish border. We have 37 golf courses along our beautiful coastline including some of the best in the world.

I am the resident golf Professional at Sheraton Pine Cliffs, one of Europe's leading golf resorts and Portugal's #1 family resort. We are currently amid the busy golfing season when many groups of golfers are taking advantage of our fantastic courses and mild climate temperatures. Vilamoura is one of the best places to stay with its large hotels surrounding the picturesque marina within close proximity of long golden beaches. This makes the area very popular with families in the summer and golfers during the winter months.

We recently hosted the European tours Algarve Masters at the Arnold Palmer designed Victoria course at Vilamoura. The sun was shining and the golf course was in great shape which provided great scoring conditions. Congratulations to Richard Green from Australia who finished on a very tidy 18 under par to win by 2 shots from a group of 4 players including Robert Karlsson and Francesco Molinari who himself shot 74, 62, 74, 62 which unbelievably shows how your game can change from day to day. Two rounds of 10 under par in the same week. Very Impressive.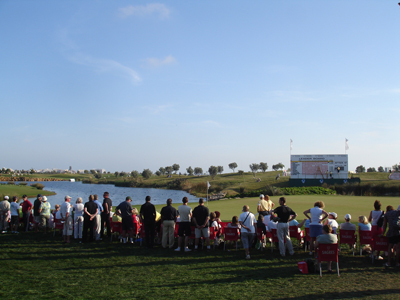 Our resort and local area is very busy at the moment due to half term in the UK. The Algarve has become a very popular destination with the British due to high quality golf courses, fine restaurants, leading hotels and some of the best beaches in Europe. Many kids are getting into golf this week and joining our junior golf clinics. With some of them as young as 5 years old it's a great age to start. We've had some real natural talents, maybe some pros in the making!

Portugal is one of the leading contenders for the 42nd Ryder cup bid for 2018 among five other nations including France, Germany, Holland, Spain and Sweden. Portugal´s bid is called "Got game, got Garra". The pace is really picking up for these bids now with each Country having submitted their bid, the best will be chosen by a select committee from the PGA and PGA´s of Europe which is set to be announced in 2011. Fingers crossed for that, good luck Portugal. I'll keep you updated!! Check out my link below for Portugals bid, looks impressive!! - Click here to view the video

That's all we have time for this week and I look forward to keeping you posted about what is going on here in the Algarve on my column "A Views From the Cliffs".

Good golfing

Daniel Warwick
PGA Professional
Sheraton Pine Cliffs