It has been another fabulous week for weather in the Algarve, many hours of sunshine although the temperatures have dropped a little. It has been around 17/18 degrees this week, still considerably warming than the UK and making great conditions for golf. The courses are still fairly busy and as always, in fantastic condition.

Now we are into November the Algarve is starting to quieten down a little. October is the peak golfing season and with half term at the end of the month it tends to mark the end of the summer. Although we have been quieter this week I have still been coaching, introducing new pupils to the game as well as improving established golfers and with our 3 for 2 promotions on lessons through November we have generated some interest in and around the academy here at Pine cliffs.

COURSE INSIGHT:
Each Article I write I will try to give you an insight to the golf courses I have played in the past weeks here in the Algarve. Last week I was very fortunate to play the beautiful Jack Nicklaus signature course, Monte Rei. Located in the seaside town of Tavira toward the Spanish border, this course really is a gem. Set over a massive 1000 acres and only opened in June 2007 it has already been ranked number 1 golf course in Portugal. The course is measured at 6567m winding through valleys with many streams, lakes and large sculpted bunkers giving the course an American design feel. The immaculate condition of this golf course is truly breath taking, the greens are fast and the fairways are like carpet. On each tee you stand you will be blown away, you only see the hole you are playing which is set in a valley, giving a very peaceful feeling when you play here. The exception service you receive at Monte Rei gives you a felling of a very special day out. A Green fee here may cost you more than other courses around the Algarve but it's defiantly a golf course you have to play.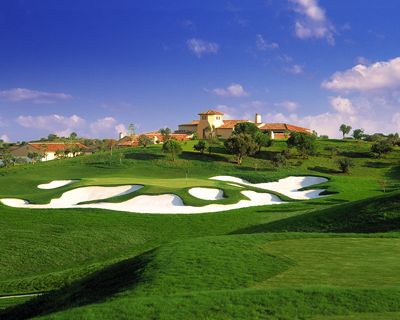 During the winter I get a chance to play and practise more myself. As a professional golfer, I need to maintain my own game to the high level I reached when I turned pro 10 years ago. I try to play at least once or twice a week and hit balls a couple of times as well. Remember, winter is a great time to start practising, just because the summer is over and the weather is not so good, doesn't mean you should stop playing regularly and more importantly practising regularly.

TIP:
Improving your putting is the easiest way to lower your scores, especially short putting. If you can hole out from the 3-4 ft range you will improve your scoring considerably. I find the best way to practise this is to use the clock exercise. Place 4 or five balls in a circle around the hole, if you do this on a slope it will make it more difficult as all the putts will be completely different. Once you hole them all out. Spread out to make it harder.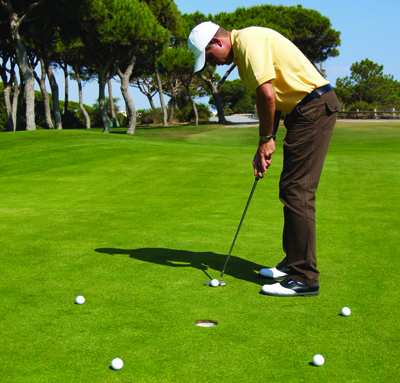 Good golfing and keep practising.

Daniel Warwick